It's only a few days away, and though you might already be thawing your Thanksgiving turkey, you've probably come to the post because you're freaking out at the last minute wondering what wines to serve to your guests.
Image credit: sheknows.com
Luckily, Thanksgiving is a pretty easy meal to pair wines with. The meal is full of a wide variety of fall flavors, and though it'll be impossible for one wine to compliment the entire meal, you can certainly make a last trip to the store to grab a few bottles that will definitely enhance your Thanksgiving dinner.
Sparkling to start the party
I think it's fun to open up a bottle of something sparkly to serve as your guests arrive. This year, go for something different like a sparkling shiraz. It's not terribly acidic, and has a nice medium body that pairs well with breads and strong cheeses like an aged blue cheese. Instead of going with a store bough bread, why not make your own challah baguettes? Recipe here.
Image credit: VegWithAnEdge.com
Riesling for brussels sprouts
They're a Thanksgiving staple, but brussels sprouts can be tricky with wine pairings. Personally, I love a fruity riesling to cut the strong nutty flavor of seared brussels sprouts.
Image credit: VegWithAnEdge.com
We currently have a few of Vienna's finest rieslings available starting at only $26 a bottle. The offer expires soon, and keep in mind that even if you order today it won't arrive before Thanksgiving. So go ahead and order a few rieslings now for next time you cook up a batch of brussels sprouts, they're in season throughout he end of winter.
Onto the main dishes
Last night I made a trip to Whole Foods to do some sample tasting for this blog post (they have Thanksgiving dishes in their hot bar, which is super helpful if you're like me and want to test your Thanksgiving pairings in advance).
I found this gewurztraminer that pairs excellently with vegetarian stuffing, mashed potatoes, and gravy.
The bottle was about $25, and definitely enhanced my test meal! It's warm, spicy, very aromatic, and has a crisp sweet taste.
Be traditional with a pinot noir
It goes quite well with turkey, so there's a reason why pinot noirs are considered a classic Thanksgiving wine pairing. You could also go with a fuller bodied zinfandel, which I personally prefer.
Pumpkin pie wine pairings
Most people will recommend a dessert wine to accompany a nice slice of pumpkin pie (like port or sherry) but I like to go for something a little lighter and break back out the riesling that I served earlier in the meal.
Image credit: VegWithAnEdge.com
Shake things up for dessert this year by making a vegan pumpkin parsnip pie. Recipe here.
Extra bottle for the table
If you're looking for a good wine to sit at the table, then I'd go with pinot gris. It's rich, spicy, and has a nice almost oily texture that would pair well with almost anything else that finds it's way to your Thanksgiving table!
Plan early next year
Add a few bottles to your cloud cellar now and you can get a super early start on your wine pairing for next year. Get $50 off orders of 6 bottles or more using promo code TDAY2015.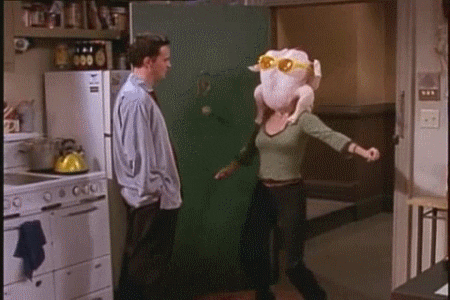 Image credit: giphy.com
Offer expires 12/31/14.